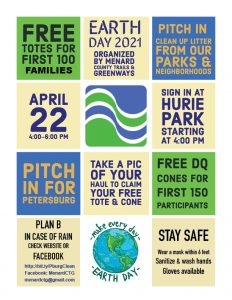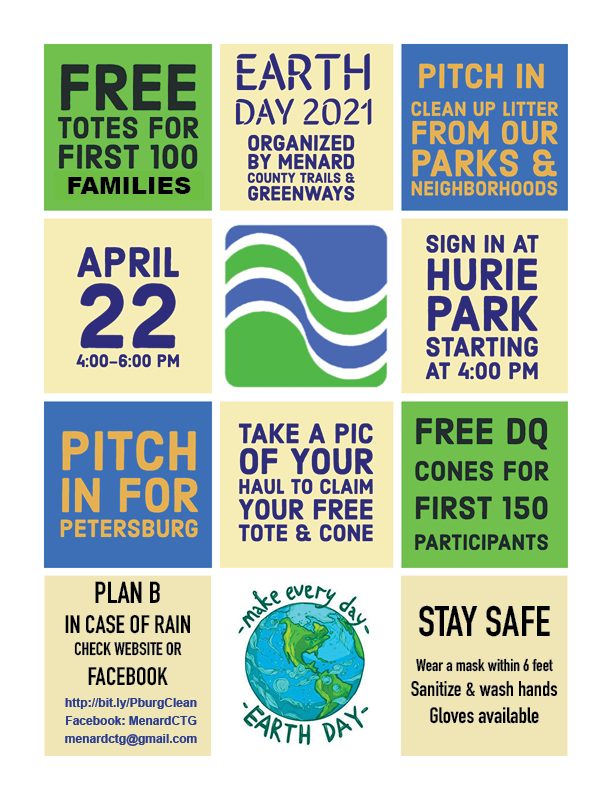 Tired of seeing litter — cans, bottles, fast food wrappers, and more — strewn along our river front, in our parks, and along our streets and ditches?
If everyone pitches in we can make a big difference in the appearance of our beautiful little city and health of our environment.
Ways to Help
Sign in at Hurie Park after work or school starting at 4:00 PM (or whenever you can get there) to get a trash bag, your free tote (while they last), and DQ cone coupon (while they last). We'll assign you a location or you can tell us where you plan to pick up.
Pick up around your own neighborhood or other locations you regularly see litter. Bring your bag(s) to Hurie before 6:00 PM to claim your free tote (while they last), and DQ cone coupon (while they last). Or take a selfie with your team and your trash bags to claim your tote and DQ cone. If possible please email us in advance to tell us where you'll be working.
If you've been contacted by an organization or employer to help out, then there's no need to sign in with us at Hurie. We'll make sure you get your tote and cone.
How can we give away totes and cones???
This year Menard County Trails & Greenways is able to offer free reusable shopping totes and DQ cones to Earth Day participants because of the very generous donations of our fantastic sponsors. Please help us let them know how much they are appreciated for supporting this important cause!
Alliance Community Bank
Blane Real Estate: Judy and Peter Olesen–217-632-7521
Broadgauge
CAPCIL
County Market
Dairy Queen
Damon Priddy State Farm Springfield
Edgar Lee Masters Memorial Museum
Edward Jones-Financial Advisor: Julie Wankel
Hello Sunshine Makery & Marketplace LLC
Hand of Fate Brewery
HR Full Circle
Marbold Farmstead
Menard Animal Protection
Menard County Rotary Club
Menard County Tourism
Ozella Construction, Inc.
Petefish Skiles & Co.
Petersburg Jaycees
Petersburg Pharmacy
Petersburg Veterans Memorial Park
PORTA Bluejays
R&H Farm and Home
RiverBank Lodge
Rudin Printing Company
The Crazy Daisy
Three Pines Petersburg
Stay Safe
Wear a mask within 6 feet
Sanitize & wash hands
Gloves available
More Information
menardctg@gmail.com
Download (and share) the flyer here!
Check back here or Facebook for updates.
Rain Date: In case of rain, we'll reschedule.