Portions of New Salem State Historic Site are characterized by many mature oak and hickory trees, which indicates that historically those woodland areas had a very open understory. Regeneration of oak and hickory, as well as native shrubs and herbaceous species are being suppressed by a dense understory of exotic invasive species. The goal of the proposed plan is to restore and maintain the historic character of the forest in the area around Cardinal Ridge Trail by removing the dominant invasive species: Bush Honeysuckle (Lonicera maackii), Autumn Olive (Elaeagnus umbellata) and Garlic mustard (alliaria petiolata).
Working under the supervision of the Heritage Division of the Department of Natural Resources, MCTG volunteers are removing exotic invasive plant species starting with the area around Cardinal Ridge Trail. As time allow we will also periodically do minimal trail maintenance throughout the site, such as prune branches from trees that are overhanging the trail or impeding pedestrian use, and removal of downed logs/trees.
Volunteers needed for the following jobs. Contact us by email or call Terri at 618-521-1030.
Operate chain saws (battery operated preferred–quieter and cleaner) (must be experienced and provide your own equipment, including PPE),
Use hand loppers and saws,
Spray cut stumps with herbicide (must take a training provided by MCTG licensed applicators),
Haul and stack brush.
For more information, check out our article in May 2023 issue of Outdoor Illinois Journal, Invasive Plant Species: they have to go!
Follow us on Facebook to hear about project workday opportunities.
Project Slide Show
Menard County Forest Fund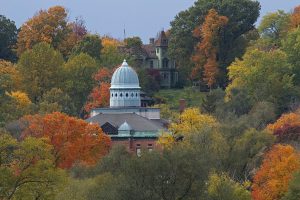 Menard County Trails & Greenways has entered into a partnership with Broadgauge and created the Menard County Forest Fund. The purpose of the Forest Fund is to enhance the quality of life and natural beauty of our community by planting native trees, and preserving and restoring native forests.
Broadgauge established the Menard County Forest Fund with an initial $10,000 donation. Plus, $1 from every completed dinner reservation at Broadgauge went towards the Fund for one year. Additional donations are welcome and will qualify as a charitable contribution to a not-for-profit organization.
Trees provide benefits that are vital to our quality of life. They beautify our community and enhance recreational opportunities such as hiking, bird watching, photography, hunting, mushroom hunting, etc. They improve soil conservation of our land, which will in turn improve water quality in our creeks and rivers. They help to purify and cool the air.
The Forest Fund will plant and/or preserve trees on public lands or easements.
Sangamon River EdVenture Video Series
MCTG has teamed up with Dave Cox and his partners at Inspire EdVentures to create a series of educational videos about the Sangamon River in Menard County. The objective is to promote educational exploration and discovery in a recreational environment by providing access to information about the river and its valley and identifying places that have a particular story to tell. At the same time, by advocating a conservation ethic that explorers examine but not remove items, we will do our part to ensure that educational resources of a Sangamon River adventure will remain for generations to come.
We have identified two themes to guide development of educational materials to promote recreational use and appreciation of the Sangamon River. The first theme is to create a "year-in-the-life-of-the-river" story by photo- and film-documenting, with a nature-inspired narrative, about how the river and its valley change seasonally.
The second theme is to identify and document points-of-interest along the river, some accessible only by watercraft, others from the riverbank. Among interesting things to see along the river: bedrock outcrops, river valley landforms such as sand bars, fossils, freshwater mussel and snail shells, fish species, tree species, etc..
There are many stories to tell about the river, nature, and the people of the Sangamon River valley. Let us know if you are interested in contributing–ideas, photos, videos, stories–to this project. Contact us by email or call Mike at 217-299-0541.
Recreational Events
Sangamon River Fall Float from Gudgel Bridge to New Salem Picnic Area
Organized bike rides
Organized nature hikes
Community Service
Adopt-a-Highway — we take care of a two-mile stretch of Rt. 97 from the south end of New Salem to the south edge of Petersburg.
Historic Wayside Park — we maintain the 3-acre IDOT ROW at the SW corner of Rts 97 and 123 (the Tallula Road). Maintenance includes mowing and tending to the Pollinator Waystation around the Council Circle.
Earth Day clean up — we organize a litter clean up in Petersburg each year and would like to expand efforts into other Menard County towns, such as Athens, Oakford and Greenview.
Petersburg Chamber of Commerce — MCTG is a member of the Petersburg Chamber of Commerce and participates in the annual Petersburg Harvest Fest.
Menard County Tourism Council — MCTG is member of the tourism council.
To volunteer for any of these activities, please email us.
Join Us!