Native Americans were the only human beings in Menard County for more than 10,000 years. Traces of their way of life in the form of stone tools and pottery sherds continue to be found throughout the county. Their legacy is also documented by trails—a path or track worn by the passages of persons traveling.
Identifying ancient Native American trails is difficult at best. Some Native American trail maps survive, such as the 1837 Ioway map, but they are extremely rare.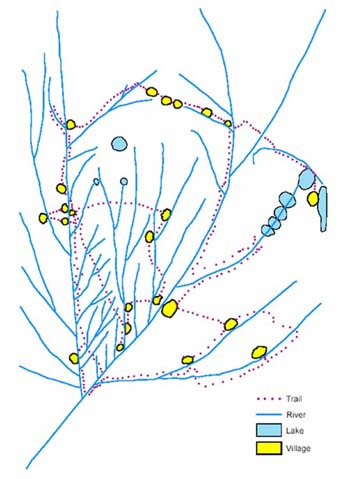 Knowledge of trails was part of everyday life shared from generation to generation. Memories about trails often faded when Native Americans were forced to abandon their homelands, but the use of some trails continued. In fact, early American settlers followed existing trails and in time those Native American paths became some of today's roads.
One example is provided in an article about Shickshack, a Potawatomi leader. In 1909, John Francis Snyder published evidence of some of the Native American trails in the area. In one passage he states "In the first settlement in Morgan County by white pioneers a well-worn Indian trail was easily traced—and can now in places be still discerned—from their crossing of the Illinois river near Meredosia lake up to the great mound at Beardstown, where it turned to the east, continuing up the Sangamon bottom on the south side, passing on by Shickshack's village, to the mouth of Salt creek, where it crossed the Sangamon and continued on to the old Kickapoo village in the western part of McLean county."
Today, the Chandlerville Road is part of this route. It is easy to imagine Shickshack, sitting in his summer village on a hill that is now his namesake, watching the movement of game and people along the trail on the edge of the Sangamon river valley.
---
Post author: Dr. Michael Wiant is Director Emeritus of the Illinois State Museum—Dickson Mounds. He has been a student of Native American history for more than 50 years.