While perusing Pinterest a while ago, I came across this great sign: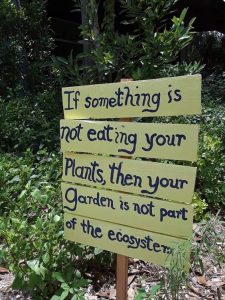 For a long time, the ideal garden plants were ones that were "pest resistant." That often meant plants that were not native to our region, plants that had not evolved with our native insects and were less palatable to them. In recent years, concerns about plummeting insect populations and overall loss of biodiversity has led to a new garden ethic, a movement to use our gardens to support wildlife rather than repel it. Planting native plants is a very important part of this strategy and something I hope you will consider!
Research to find plants that are suitable for your site
One concern often voiced about native plants is that they are too aggressive for the home garden. This might be true about some species, but certainly not all! Milkweed is a great example. There is much interest in growing milkweed as a host plant for the monarch butterfly caterpillar. Most people are familiar with common milkweed (Asclepias syriaca) that can be seen growing along roadsides. It spreads by both seed and running roots and can rather quickly take over a small garden. However, there are about 20 milkweed species native to Illinois, and some have very different growth habits. Some are quite rare and challenging to grow.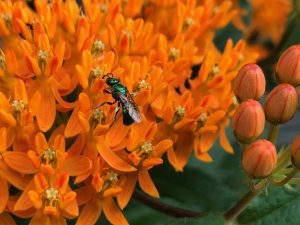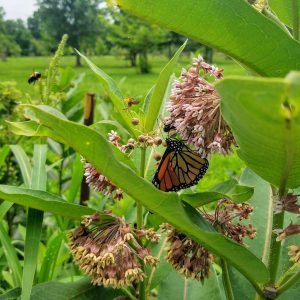 For the home garden, butterfly weed and swamp milkweed are great choices. Both have showy flowers, spread mostly by seed rather than roots, and are relatively easy to grow in a sunny garden setting. They serve the purpose of being a host plant for monarchs, the flowers are utilized by a wide variety of pollinators, and they are beautiful additions to a perennial bed!
Add to your existing landscape
You don't have to start from scratch if you have space in your existing landscape. Many natives are wonderful compliments to our common ornamentals. Think of it as simply expanding the gardener's plant palette while doing a lot of good for the environment.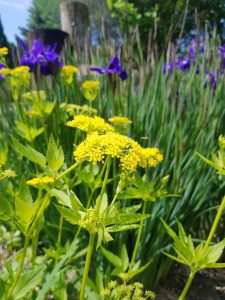 One of my favorite pairs last year was the deep purple Siberian iris flowers with the blooms of Golden Alexanders. I was amazed by the variety of insects that visited the showy yellow umbels of this native species. It is also a host plant for black swallowtail caterpillars. One word of warning—be sure not to confuse Golden Alexanders with the taller, later blooming invasive wild parsnip! Wild parsnip, commonly observed in ditches and fields in the area, is known to cause severe rashes.
Diversity is key!
By planting a wide variety of species in our gardens, we are providing food and habitat for a wider variety of insects, birds, and other animals. Try to ensure there is something blooming from early spring through late fall, so there is a steady source of pollen and nectar throughout the growing season. Include a variety of flower colors and shapes that will attract a greater diversity of pollinators.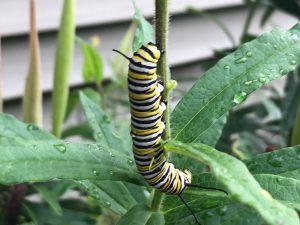 Plant species that attract caterpillars and insects to feed nesting birds. Choose plants that will produce seed and fruit that will support wildlife throughout the entire year. Include varied structure, incorporating trees and shrubs for shelter and nesting habitat.
Planting a diverse array of plants also works in the gardener's favor. Inevitably, some plants die for any number of reasons. If we don't rely too heavily on any one species, the losses can be minimized!
Where to find plants?
This can be challenging as it can still be hard to find native plants in our local garden centers. Usually, there are great local plant sales to pick up some native species. Unfortunately, many of these have been called off, such as the Illinois Native Plant Society's annual sale in Springfield. Others have been scaled back and moved to online ordering, like the sale at Lincoln Memorial Garden.
There are a number of excellent places to order natives online, such as Prairie Moon and Prairie Nursery. Forrest Keeling and Boehms Garden Center are a couple of my favorites options for trees and shrubs.
If you're looking for something even closer to home, ask around. This is a great time of year to be dividing perennials and transplanting. In the case of some of the native species that tend to seed in or spread around, there are likely some people willing to share. I know I certainly have some things that could easily be dug right now!
While so many of our favorite spring events are off limits during the on-going pandemic, gardening is not cancelled. This might be the perfect time to get out there and create some habitat at home!
---
Post author, Alana McKean, an avid native plant gardener is the curator of the woody plant collection at Starhill Forest Arboretum. Alana also serves as the Illinois Native Plant Society Central Chapter newsletter editor, and is an active member of the International Oak Society. Alana worked in her native Iowa as a Conservation Planner with the Nature Conservancy and a county conservation naturalist. She is an ISA certified arborist and a 2008 graduate of Illinois College graduate with degrees in Biology and Environmental Science.