During this time of uncertainty and crisis, many of us are feeling anxious and maybe a bit stir crazy. Most of us are spending way more time than usual watching television or pursuing other sedentary activities. Gyms are closed, yoga studios have gone dark, and not everyone has a dog to take on endless walks.
Fear not. Cycling is the cure for what ails you. There is no greater feeling of freedom than riding a bicycle down a country road on a warm, sunny day. Fortunately, solo biking is not only still allowed but encouraged. Those who are quarantined together can bike together as well. Bike shops are considered essential services and are still open in Illinois.
Area trails and parks can be crowded right now as people escape from their homes for some fresh air and exercise. But there are miles and miles of country roads in Menard County where social distancing is the norm and automobile traffic is lower than ever thanks to stay-at-home orders.
Have the hills discouraged you from riding? There are some relatively flat country roads and smaller hills that are perfect for training rides in Menard County.
Don't know where to ride? Area cyclists post routes on websites that also have free apps like ridewithgps.com and strava.com. Find some Petersburg or Springfield cyclists to follow on an app and use their routes; or use one of the routes below. Both rides can begin at the PORTA High School parking lot.
This route goes past Oakland Cemetery and around Lake Petersburg to New Salem State Historic Site. (Please note, New Salem is currently closed .)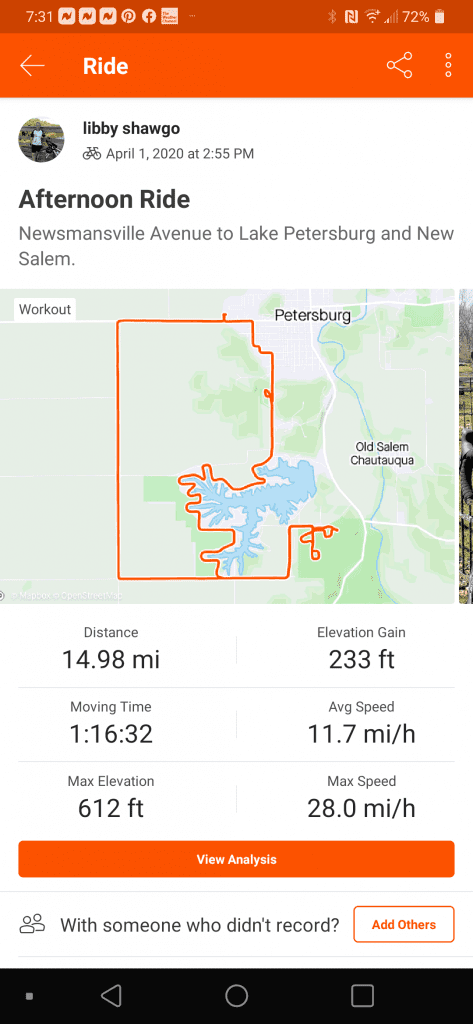 This route goes through Atterberry and uses some lightly travelled, relatively flat country roads to loop back towards the Menard County Fairgrounds.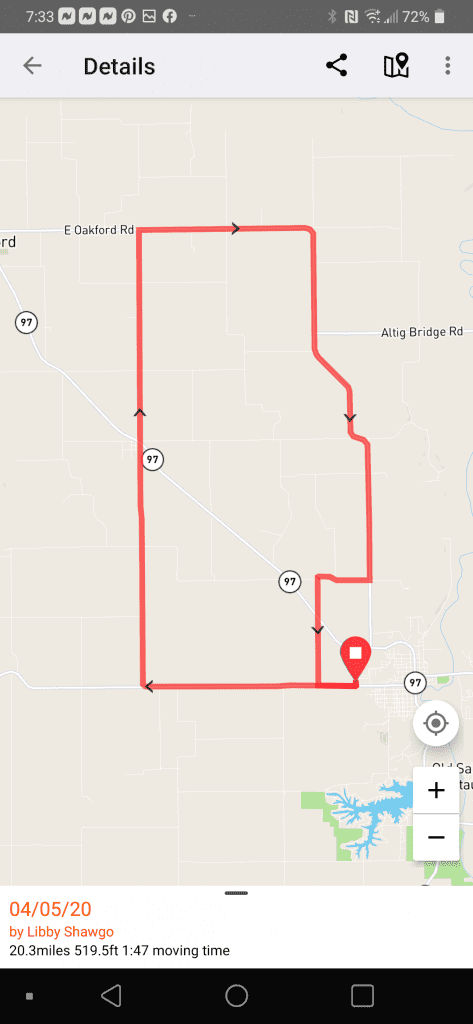 Here's a link to the Atterberry route on ridewithgps.com.
https://ridewithgps.com/trips/16822497
Looking for other routes in Menard County? Go to ridewithgps.com and create an account. At the top of the home page, click on "find." Fill in the boxes under "find a route," such as "starts within 10 miles of Petersburg, Illinois". Multiple area routes with cuesheets (turn-by-turn directions) are available and can be printed or downloaded to a smartphone or Garmin. If you ride in Menard County, please save your routes and make them public.
Although solo biking is considered a safe activity during the pandemic, some precautions are always in order:
Wear a helmet and bright clothing.
Use blinking taillights and preferably front-facing daytime running lights to increase visibility.
Always take water and some snacks with you.
Make sure someone knows you're going for a ride and share your location with someone through Google or another app if possible.
For those who do not have a bike, shopping for one can seem a bit overwhelming. Area bike shops are currently offering curbside services for tune-ups, repairs, and test rides. Call ahead or check their websites for hours and services.
For riding in Menard County, most people start with a hybrid bike or road bike. Hybrid bikes have flat handlebars and wider tires and can be used around town and for commuting. Road bikes have dropped handlebars and skinnier tires and are generally preferred by riders who plan to go further than those on hybrid bikes or feel a need for speed. Both types offer lots of gears for biking up hills. Entry-level bike frames are composed of light-weight aluminum or steel and often have a carbon fiber fork to help with shock absorption.
The brand and type of bike aren't nearly as important as the fit. Bike shop staff are great at helping customers find the right bike and making sure it's the right size for the rider. Some simple adjustments like making sure the saddle is at the right height and shortening or lengthening the reach from the saddle to the handlebars can help reduce injuries and increase comfort. Shops also have a limited inventory of used bikes.
Shop around. The right bike is the one that feels best to you. Don't forget to ask about accessories like helmets, lights, small cargo bag, spare tubes and tools to change a flat.
Life during a pandemic can have some bright spots. Use some of that newfound free time to discover or rediscover the joy of cycling and enjoy the outdoors.