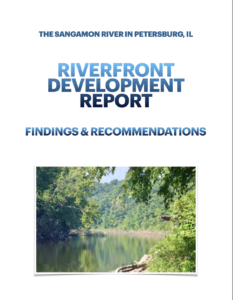 The Sangamon River shares a place in Petersburg's rich history since the town was formed nearly 200 years ago. Its waters led to the arrival of a young Abraham Lincoln who later surveyed land that is now Petersburg. The river and the tracks along it shuttled 100,000 visitors in the 10 day mega-event each year known as Chautauqua on a site just a mile south of town in the late 1800s and early 1900s. The Sangamon River was the subject of popular writings of Edgar Lee Masters as he described the beloved Sangamon River and the people who called the area home. Native Americans utilized the river for food, water and transportation. In much earlier times, it was home to mastodons and a wide variety of animal life. Yes, the river has a rich history right here in our hometown of Petersburg.
The Sangamon is a gem, and Petersburg is fortunate to have city owned land running nearly uninterrupted along the riverfront. Although parks and recreation are two main draws for visitors and reasons why people choose a community in which to live, much of the riverfront has been unused and inaccessible to citizens and visitors. However, its natural beauty is coming to life as the city has accepted the Finding and Recommendations of the Riverfront Development Group to enhance the riverfront properties.
The full report can be downloaded here.