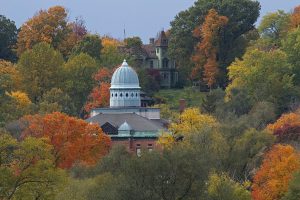 Menard County Trails & Greenways has entered into a partnership with Broadgauge that is dedicated to beautifying our community by planting and preserving native trees on public lands in Petersburg and Menard County.
Broadgauge established the Menard County Forest Fund with an initial $10,000 donation. Plus, $1 from every completed dinner reservation at Broadgauge will go towards the Forest Fund. Menard County Trails & Greenways will administer the Forest Fund with the creation of a grant program in which we will award organizations that will plant and/or preserve trees on public lands and/or easements.
Additional donations are welcome and will qualify as a charitable contribution to a not-for-profit organization.
Trees provide many benefits vital to quality of life. In addition to beautifying our community and enhancing recreational opportunities such as hiking, photography, hunting, mushrooming, and countless other activities, trees provide shade, habitat, and food for wildlife, and improve air quality, among other environmental benefits.
As soon as the application process is established, MCTG will invite organizations to apply for grants that will pay for trees or forest maintenance. Eligible projects may include but will not be limited to improving public lands such as parks, or the purchase of materials to remove invasive species from existing forests. More information about the application process will be provided as soon as it's available – check back here and our Facebook page.
You may book Broadgauge reservations today at broadgauge.com/reservations. Wednesday and Thursday evenings often have the best availability. Please consider joining us midweek!