Located on 50 acres in southern Menard County, IL, Starhill Forest is a private arboretum owned and operated by Guy and Edie Sternberg since 1976.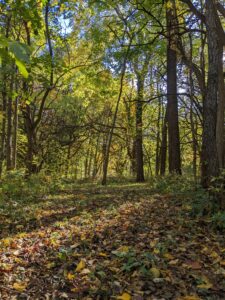 Old trees in the forested areas date to about 1850, and the oldest planted trees were started from seed in 1964 and transplanted from another location. Permanent records kept by Starhill Forest include provenance information, propagation method and year, mapped location within the arboretum via a surveyed grid system, and other data. In addition, permanent records of other taxa that have been tested and have not survived include cause of death, when known.
Visitors are welcome by appointment. Whether you would like to wander the peaceful woodland trails on your own or schedule a guided tour, contact the Arboretum at 217-632-3685 or via email to plan your visit. See Starhill Forest's website for more details.